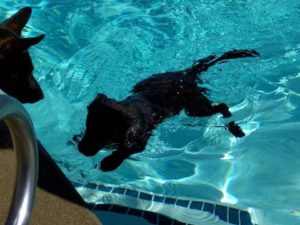 K9 Splash Zone is not just for Dock Diving.
Whether your dog is in need of rehabilitation, conditioning or just needs exercise. K9 Splash Zone also offers swimming. Co-owner, Susan Fife is a veterinarian certified in Canine Rehabilitation, is a Certified Canine Fitness Coach and a FitPaws Master Trainer.
Swimming is an important fitness skill. In the water, the dog can use all of their joints without the effects of gravity. Because of buoyancy, the dog weighs 90% less in the water. With decreased impact on their joints, the dogs are free to move and build muscle with their efforts. Moreover, the water provides more resistance to muscles then moving in air, meaning the dog has to work harder to move through water than if they were exercising in air – this helps to build muscle mass. Swimming is also a great overall cardio workout – if you are not moving, you are sinking.
Pet obesity has risen in the US at an alarming fast rate. Obesity in dogs can cause joint and muscle problems as they are asked to carry more than their joints were designed to carry. A study by Nestle Purina PetCare showed that a dog's life can be increased (on average) by 15% (2 years) by achieving and maintaining ideal body weight. Obesity and arthritis are a vicious cycle – the more you hurt, the less you want to move and the heavier you become. It is often difficult to encourage dogs to lose weight when their joints hurt. Swimming is a fabulous way to increase calorie expenditure while decreasing the impact on joints. The more weight the dog loses the better they feel and the more likely they are to continue to exercise and maintain their ideal weight. Altogether, swimming can allow these dogs to increase their overall fitness level. Calories in must equal calories out to maintain a proper weight.
By swimming, geriatric, post-surgical, out of shape and obese dogs can exercise for a longer period of time in water than they could with a similar exercise regimen on land. This allows the dog to build muscle mass and prevent muscle atrophy resulting in an overall increase in the health and fitness of the dogs.